Ten years ago, I met Nelson & Sarah Rivera on a SCORE mission trip to the Dominican Republic.  The Rivera's had come with their friend Rik Benson on our annual Baseball Outreach Trip to the Dominican Republic.  That week, we did several free baseball clinics for local children in order to earn the right to share the Gospel with them.  We also took our trip participants on several different ministry outings each afternoon to see how SCORE was involved in things like child sponsorship, anti-human trafficking, providing clean water, and church planting.  That trip must have made a powerful impact on the Riviera family, because I saw Nelson and different family members on several more trips over the following years.
In August of this year, SCORE relaunched our gap year, now called the CLIMB Program.  We have 9 students enrolled in the program for the 2021-2022 class.  One of those students just happens to be Belle Rivera, Nelson & Sarah's daughter.  As the Lord continued to use the ministry of SCORE to impact the Rivera family, Belle had been praying about an opportunity to be involved in more than just a one week mission trip.  The CLIMB Program turned out to be just the right thing for her.  During her nine months in the Dominican Republic with SCORE, Belle will have Spanish classes, Bible/theology classes, and be plugged into a local ministry on the weekends.  We are thrilled to have Belle as a student in our CLIMB program, but the story does not end there.
Earlier this month, SCORE once again hosted our annual Baseball Outreach Trip to the Dominican Republic.  We had 80 people join us on the trip this year, and it was great to see Nelson back on that trip.  This year he brought his 18 year old son, Noah, along with him on the trip.  It was so encouraging to see Nelson, Belle, and Noah all get to serve together during the week.  They were out on the baseball field each morning helping us with the clinics.  We partnered with local pastors to share the Gospel after each clinic, and we had several young men give their life to Christ during the week.  Our local pastors have already started discipleship efforts with these new Believers.  Each afternoon, the Rivera's were able to get plugged into different local ministries.  One day, they were able to be a part of a group that threw a party for local children.  The group invited the local kids to the Lily House Skate Park and paid for them to go skating and eat some treats like popcorn and ice cream.  It was an awesome event!  Each day would end with a worship service, and it was so encouraging to see Nelson, Belle, and Noah sitting there together as a family during the worship services.
As a part of the evening worship services, we would give time for people to come up and share testimonies about what they had seen and been a part of that day.  On the last day, Noah came up to the front to share a testimony about something that had impacted him.  Little did we know that the Lord was doing something huge in his life.  Noah shared with the crowd that God had been speaking to his heart about full-time ministry, and during the worship service on the previous night, Noah had put his yes on the table, and surrendered to serve the Lord in a full-time capacity.  It was such a powerful moment to see how the Lord had used the ministry of SCORE in the life of this family to bring them to this point.  Nelson and Belle celebrated with Noah and we all took some time to praise the Lord for this major moment in the life of the Rivera family.
The story of the Rivera family is just one example of how SCORE International is making an impact in people's lives.  We are impacting the national and locals that we go to serve.  We are impacting the full-time missionaries and families that are serving with us.  We are impacting the thousands of people that travel with us on mission trips each year.  Our desire is to keep impacting lives and to broaden our sphere of influence.  Would you join us in praying for the Lord to continue to use the ministry of SCORE to impact lives around the world?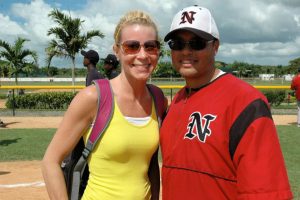 This is a photo of Nelson & Sarah on the Dominican Baseball Outreach trip in 2011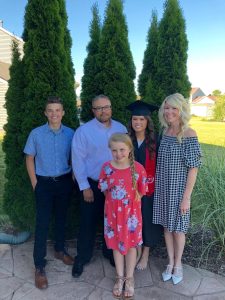 This is a photo of the Rivera family from Belle's high school graduation
This is a photo of Noah sharing about his surrender to full-time ministry during the 2021 Dominican Baseball Outreach trip