Ruben & Keila Matute
Honduras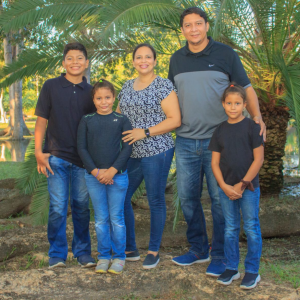 Ruben and Keila grew up in Christian homes in Honduras, and accepted Jesus as Savior at a very young age. Keila was 8 years, and Ruben was 12. They grew up together in Sunday school.
We were married in December of 2005 and began ministering to youth at churches in our community. We studied at Word of Life Bible Institute in Argentina for three years, and then we served under Word of Life Honduras for two years. God has called us to work with youth in different churches and in camps.
Now we serve as missionaries at Born Again Baptist Church in San Pedro Sula, Honduras. Our ministry is focused on reaching out to youth through visiting schools and interacting with them on campus. We are dreaming about reaching many young people with the Gospel of Christ, and training them to be disciples.
Ruben and Keila have three children; Joshua, and twins Ruth and Rachell.
Email: matute@scoreintl.org