Rick Robinson
Public Speaker – Based in Tuscaloosa, AL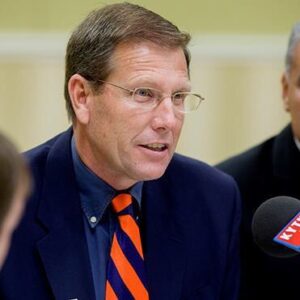 Rick Robinson spent over twenty-five years ministering to college baseball teams with twenty-one of these years as head coach at the NJCAA, NCAA D2 and NCAA D1 levels. He also spent four years as an assistant coach at Old Dominion University. After graduating from Appalachian State he started his coaching career at West Henderson High school in Hendersonville NC as Head baseball coach and assistant football coach.
Robinson has been selected as both conference and regional Coach of the Year many times. While winning 8 conference and 5 regional championships. His 2007 team played in the NJCAA Division I World Series. As an assistant he helped coach Old Dominion University to two regional tournaments and in 1995 they were only two games away from the NCAA D1 College World Series. During his 25 years as a college baseball Robinson coached 6 MLB players. Most recently Charlie Blackmon and Nick Markakis are a couple of his big-league players. Through 21 years as a Head Coach his teams won 768 games.  In 2018 he was inducted into the Young Harris Athletics Hall of Fame.
A variety of corporations, organizations and athletic teams selected Robinson to speak on Building Championship Teams through Christian Values and others on Spiritual Leadership in Coaching. He has also been ask to about "What is the Gospel" and also "Reaching Cultural Christian with the Gospel" He has also spoken at many camps, clinics and conventions around the southeast including state conventions and the American Baseball Coaches Association convention. Robinson has been a preferred speaker for local FCA huddles for over 25 years.
He is an ordained deacon in the Baptist church and has held several positions in the church including Director of Men's Ministry, Sunday School teacher and member of the missions committee.  Robinson has also been involved in the community serving on the advisory board for NE Georgia Youth for Christ and the Towns County Sheriff's Board as well as a campus advisor for FCA. He also directed FCA summer baseball camps in the northeast and southeast. Robinson played both football and baseball in college. His Appalachian State Baseball team won the Southern Conference Championship and played in the South Atlantic Regionals at Mississippi State.
Robinson is currently the USA Director for SCORE International. SCORE is an organization that recruits athletic teams, churches and schools to take mission trips, both internationally and in the USA, to partner with churches to meet physical needs to have the privilege to share the Gospel of Jesus Christ. SCORE then connects those that make decisions for Christ back to the local church for growth and discipleship.

Email: rrobinson@scoreintl.org