Rick & Luann Robinson
USA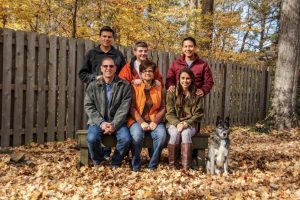 Rick and Luann have spent over twenty-five years  ministering to college baseball teams as coach and coach's wife. Twenty-one of these years were as head coach at Brevard College (NC), Young Harris College (GA) and the University of Tennessee Martin.  They also spent four years as an assistant coach at Old Dominion University (VA).  During this time they have helped steer and mentor coaches and players toward Jesus to discover God's purpose for each of them.  While there have been a lot of wins on the field (760) and six players made it to the major leagues, the thing that coach is most proud of  is that he has coached 10 sets of brothers – an indication that parents trusted the program enough to send their second son.
Rick is an ordained deacon in the Baptist church and has held several positions in the church including Director of men's ministry, Sunday School teacher and member of the missions committee.  Rick has also been involved in the community serving on the advisory board for NE Georgia Youth for Christ and the Towns County Sherrif's Board. As well as a campus advisor for FCA. He also directed FCA summer baseball camps in the north and southeast.
Luann is a former athletic trainer at Appalachian State, Clemson, Brevard College, Young Harris College, starting the Sports Medicine program at the latter two.  She played field hockey at ASU and was selected to the National field hockey team her first three years and had to decline the invitation her senior year to serve as the Women's basketball team athletic trainer.  She has been very involved in ministry not only as a coach's wife, but also as a missions team leader, women's ministry outreach coordinator, missions fund raiser, Director of Sunday School, AWANA leader and Community Outreach coordinator.  She has also been the owner of Baseball Instructional Camps and The Rock youth camps.
Both Rick and Luann have been involved in short term missions trips to Peru and the Dominican Republic as well as several domestic missions trips.  They have built and administrated baseball, soccer, softball and tennis camps as well as started the Cross Training for Christ Camps. All their camps having been covered in prayer and filled with fun and encouragement. Their passion has always been to share the gospel with love and boldness through these camps.
They have three children. Faithe, their oldest child, is a full time missionary in Ayacoucho, Peru.  She was recently married to Miguel Saccsara, a native of Peru.  They are the founders of the Quechua Soccer Club that minsters in the Andes Mountains to the Quechua Indians using soccer as a platform to proclaim the name of Jesus Christ.  Rhett is their oldest son (18) and is graduating from high school this year and will pursue life and God's purpose for him as it is revealed daily.  Ryan (15) is an accomplished photographer and enjoys serving in the church thru technology.  Both are train enthusiasts in various ways, and are passionate about railfanning.  All three have grown up in the middle of whatever ministry their parents were involved.
Rick and his family are excited about Gods call to join the SCORE family and continue to minister through athletics.
Rick's Email: rrobinson@scoreintl.org
Luann's Email: luann@scoreintl.org