Nelson & Leidy Rojas
Colombia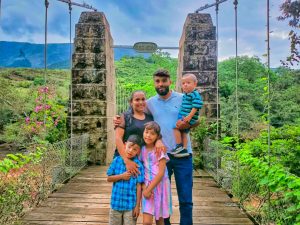 Nelson was born in Icononzo, Colombia.  His father led him to receive Christ as his personal Savior at the age of 8 in Viota, where his family were members in a missionary church.  Nelson went to university to study business administration.  Leidy was born in Girardot, and she accepted Christ at the age of 16.  Leidy grew up in Viota, and her family attended the same missionary church where Nelson's family went.  Leidy studied business administration. In 2011 they got married and now they have 3 beautiful children; MaJo was born in 2014, Elías in 2016, and Ezequiel in 2020.
With the call to serve in the missions, Nelson trained at the BBN Bible Institute in 2012 and 2013. Later he met Aby Prado and together with Leidy through the Training Point program they reinforced their knowledge in basic and advanced Biblical subjects.
Nelson and Leidy are actively involved in evangelism through student camps and sports camps. They also serve in one of the local churches planted in Fusagasugá, and as a teacher at a Bible Training Point.  Nelson currently pastors a church plant in a nearby region, and he and Leidy are actively making disciples in this area.  Nelson also trains leaders with the purpose of teaching them how to plant churches.
Email: distrielimt.a.t@live.com