Mike & Ann White
Apprentice – USA to the Holy Land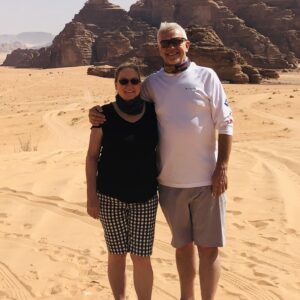 Mike White grew up in Fayette County, WV where he enjoyed playing sports, water skiing, fishing and nearly every outdoor activity. He studied Labor Relations at WV Tech and subsequently worked in the transportation industry for 17 years. He married his college sweetheart, Ann daughter of lay preacher Bill and Elizabeth Kinder, in 1979. Together, they have three grown daughters and six wonderful grandchildren. They reside in Marietta Ohio.
Mike has served the Lord in full-time sports ministry since 1997.
In 1999 he joined a mission project to Gaza through his home church, Memorial Baptist. At the time, he was hesitant to go abroad but felt called to serve his church and help his Pastor. After the first trip, he fell in love with the people of the Holy Land and has since returned 29 times!
Over the following 25 years, Mike has led hundreds of athletes, coaches and people of sport to the Holy Land. The first trip in 1999 began the West Bank sports project, numerous Israel Football Camps, Coaches training programs, Sports Medicine Seminars, Sports camps for volleyball, soccer, and swimming, and numerous Holy Land Tours.
Mike and his teams have also held sports camps and coaches training programs in Jordan expanding the footprint of the program.
In addition to athletic community outreach, Mike has a passion to train leaders and has mentored many student leaders during his career. He believes this investment in future leaders will bolster the ministry and mission of the Church in the next generation.
Through SCORE, these successful ministry programs will continue to expand flourish.
These many efforts are possible because of the faithful prayer and support of generous donors. We ask that you prayerfully consider helping us reach more students, athletes, and coaches for Christ with your gift today.
Your support can make a difference!
Please feel free to contact Mike to learn more about his ministry efforts with SCORE and specific areas in which you may have interests or questions.