Matt & Martha Reynolds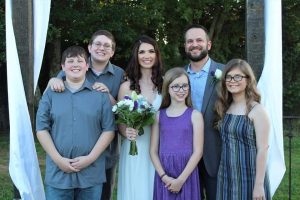 Matt and Martha Reynolds, recently married on May 25, fell in love in the Dominican Republic on a November Baseball Trip with SCORE. Martha had previously traveled with SCORE to the DR and fell in love with the ministry of SCORE, and in particular the Emanuel House, a school program for children in Quisqueya. Matt accompanied Martha this past year and saw first-hand the work of SCORE.
Matt and Martha share a blended family of four children, 7 chickens, a pot-bellied pig, and a GoldenDoodle named Rosco. Matt works for American Fire Protection group as a sales manager and serves on the Board of Directors for the Vilonia School District in Arkansas. Martha holds a Bachelor's in Spanish and a Master's in Advanced Studies in Teacher Leadership. She has been teaching for 16 years as a Spanish teacher.  Martha accepted a call to missions at the age of 15. She has been a part of at least fifteen mission trips and desires to continue to use the gifts God has given. Matt felt a call toward missions in his early twenties but ignored the call until his recent trip to the Dominican. His story is unique and he loves to talk about hearing and obeying the Lord's call in life.
Martha and Matt were saved early in their pre-teen/teen years. They use their story of brokenness to minister to others. Matt has been a member of his home church, Central Baptist Church, for 29 years. Martha joined Matt at Central after they were married. Currently, Matt and Martha work on the bus and college ministry. Before that, Martha spent 17 years at Harlan Park Baptist church serving as a small-group leader, and working in children, youth, college and music. Matt and Martha desire to honor God and to help others find their place in the Act 1:8 commission.
Please pray for them as God leads them to trust Him more completely in every aspect of their life!
Email: mreynolds@scoreintl.org