Kristi & Alejandro Reyes
Dominican Republic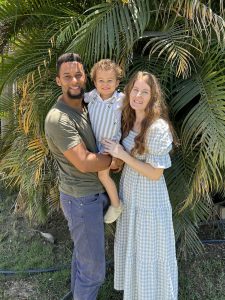 Kristi was raised in a Christian home, accepted Christ at a young age, and was baptized in middle school as she understood more about her decision to follow Christ. She developed a love for ministry through years of serving and working in various ministries at New Vision Baptist Church in Murfreesboro, Tennessee. On her first trip to La Represa in 2009, she immediately felt at home in the community and later realized God was calling her to missions. She moved to La Represa with her best friend in 2013 and worked alongside a team of missionaries for three and a half years.
Alejandro was raised in La Represa in a Christian home, grew up going to church often, and decided to follow Christ when he was 11. He grew up helping his dad build homes and his mom cook and clean. While he got close to his dream of pitching in the MLB as a teen, he knows God had greater plans for him in ministry. He has always loved serving others, from making lunch for friends to helping with church events.
Alejandro and Kristi met during a mission trip in 2010, they became close friends when she moved to La Represa, and they continued in a long-distance relationship for a year as Kristi moved back to Tennessee for rest and family time. In April 2018, they were reunited and married, and they began leading the La Represa Children and Families Ministry – a child sponsorship ministry that consists of a Bible program, a baseball program, and a family program that reaches every home in La Represa. They also enjoy leading mission teams and serving on the leadership team at the local church. Their greatest joy is raising their two-year-old son Zion and their small "farm" of two dogs, chickens, birds, turtles, and fish in the community they love.
Email: kristi@scoreintl.org