Junior & Rachel Theolus
USA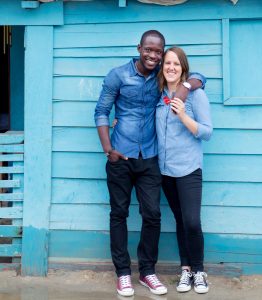 In 2012, Rachel felt God challenging her about what it looked like to truly be a "disciple" of Jesus Christ, and signed up to go on a mission trip to the Dominican Republic with her home church. God used that first trip to change her life; and she returned to the DR to be an "apprentice" the following summer, spending time working with the Lily House ministry. She returned again in the summers of 2014 and 2015, working with teams coming to serve in the children's ministries, as well as helping in the Lily House businesses. She also worked Stateside to help coordinate short-term teams serving with children in the DR and to run the Lily House Boutique shop on Etsy.com.
Junior moved to the Dominican in 2011 after the 2010 earthquake in Haiti. He began attending the Juan Dolio Baptist Church, and eventually started working for Pastor Nathan Jude. He is a graduate of the Timothy Initiative church planting training program. Junior and Rachel met in 2014 while they were both working with the Lily House ministries.
In 2016, Junior moved to St. Louis, MO, where he and Rachel were married. Currently, Junior is attending the local university and Rachel teaches full-time. They have worked with the Hispanic population in various ways in St. Louis, including running children's programs in a local Hispanic church plant and a summer preschool program for Latino children called Sin Fronteras, with the ultimate goal of sharing the Gospel with the Spanish-speaking population.
Email: rtheolus@scoreintl.org