Hector & Paola Marun
Dominican Republic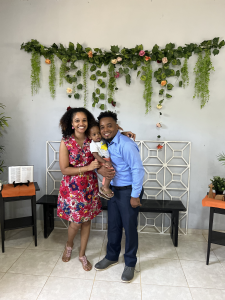 It is with deep gratitude that we wish to share with you the story of the Marun family. From the birth of our beloved son Roman a year ago, to the moments we have lived together, we have felt the guidance and loving hand of God in every step we take.
In this exciting journey, God has called us to serve in the ministry with Score International, a calling that we have embraced with gratitude and humility. We recognize that the Lord has set us apart for this work, and we are filled with joy for the opportunity to preach the gospel and make disciples in different places and contexts.
For over 12 years, I have had the privilege of leading mission groups and carrying the message of the gospel to those who have not yet heard it. My wife Paola and I have been active members of a beautiful local church in Juan Dolio for over 6 years, where we have grown spiritually and served in different areas with joy and commitment.
Our burning desire is to continue evangelizing and making disciples, in obedience to the Great Commission given to us by our Lord Jesus Christ. We firmly believe in the expansion of God's kingdom and in the transformative power of the Gospel. We trust that God will continue to guide our steps as we serve together as a family.
We remember the words of the apostle Paul in Matthew 28:19-20: "Therefore go and make disciples of all nations, baptizing them in the name of the Father and of the Son and of the Holy Spirit, and teaching them to obey everything I have commanded you. And surely I am with you always, to the very end of the age."
With gratitude and joy in our hearts, we continue forward in this calling entrusted to us by God.
In the love of Christ,
Hector, Paola, and Roman Marun
Email: hectormarun@hotmail.com