Greg & Candace Bartley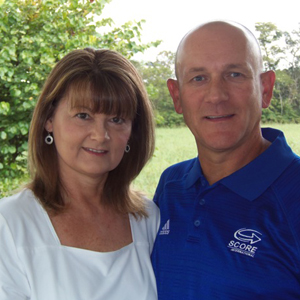 Greg grew up in Buena Vista, Virginia. The youngest of four children, sports was a way of life in his family. He played on a state champion football team and state tournament basketball team and was all-state in baseball at Parry McCluer High School. Greg was exposed to alcohol at a young age, abused it, and experimented with drugs throughout high school. This lifestyle of sin continued into college at Louisburg College (N.C.) where he pitched in the Jr. College World Series and on a nationally ranked team at East Tennessee State University.
Greg was drafted by the Seattle Mariners as a pitcher at the end of his senior year in 1982. He graduated with a Bachelor of Science degree in education that year. After successful seasons in "A" ball in 1982 and 1983, he went to play winter ball in Caracas, Venezuela. Although he played with major leaguers and was fulfilling a childhood dream of playing professional baseball, he continued to abuse alcohol and drugs, having no peace and searching for answers. A teammate, Lee Guetterman (a future major leaguer), witnessed to him and shared Scriptures. A few days later, Greg picked up a Gideon Bible from the hotel and read Colossians 3:23, a Scripture he had seen on the glove of a former teammate Donell Nixon while playing with him and his brother Otis at Louisburg College. In that hotel room, Greg accepted Christ as Savior and was set free from the bondage of sin.
The next season Greg met his future wife, Candace while playing "AA" ball with the Chattanooga Lookouts. Candace was saved at the age of 12.
After playing for six seasons and bouncing back and forth from "AA" to "AAA", he retired in 1987. He taught high school for 23 years and coached baseball for 16 years. Candace taught third grade for 20 years. Greg served as a pastor of two United Methodist Churches over six years from 2003-2009 and is currently head baseball coach at Tennessee Temple University. Greg has a hunger to see souls saved and lives changed through the power and presence of the Lord Jesus Christ. Greg and Candace have been married for 28 years and have been blessed with three sons, Keith, Brett, and Noah.
Email: gcbart22@bledsoe.net