Esteban and Bethany Amaya
Mexico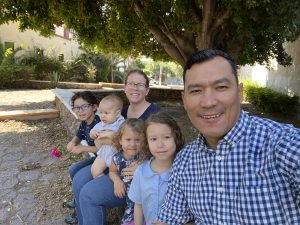 Esteban is from Bolivia and was born in a family that claimed to be Christian but that was dysfunctional. His dad was Catholic and his mom a Christian. His dad was an alcoholic and was not consistently present in his life. He attended church as a child but did not have a relationship with Christ. He became tired of living a double/hypocritical life and decided to pull away from the church and the Lord completely. After living a life very tainted and damaged from sin for several years, he attended a Christian camp where he heard the Gospel and God's forgiveness again. He put his faith in Christ that year at camp and began the process of allowing Christ to restore his life. He returned to his home church and was given the opportunity to study the Bible. While he was attending the Word of Life Bible Institute in Argentina, God called him to serve full time in the local church and later gave him the opportunity to do so in Costa Rica.
Bethany was born in a Christian home and came to know Christ as her personal Savior at the young age of five. As she grew up, she also grew in her understanding of what being a Christian and a disciple of Christs means, and God began to put a burden on her heart for the foreign mission field. During college God confirmed His calling for Bethany's life regarding full time missions, and she later moved to Costa Rica for language school and then served there in full time missions.
Esteban and Bethany met while they were both serving in Costa Rica. They served together there for nine years as Esteban pastored a church and they became involved with training pastors and church leaders theologically in partnership with IBAC Ministry. They moved to Mexico in 2022 with their four children, Josiah, Lidia, Julia, and Nehemiah to continue pastoral training and serve in church planting. They currently serve in coordinating mobile, modular institutes in Mexico, Bolivia, and Argentina; teaching, interpretation, and communication roles, as well as coming along the local church in Mexico in church planting.
Email: estebanybethany@gmail.com