Dilia Flores
Honduras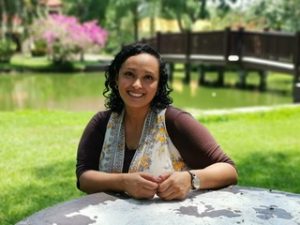 Despite not growing up in a Christian home, God blessed me with a grandmother that loves the Lord and always was eager to teach me about Him.  Because of that I grew up attending Sunday school, church services, VBS and all the activities that a church involves.  It was when I was eight years old that I understood the gospel, the Lord drew me to Him, and I trusted in Him as my Savior and Lord.
After graduating from the university as a pharmacist I was pursuing my goals and dreams, but God's plans are always better than ours. In June 2014 God worked in a very special way and placed the desire in my heart to know him in a deeper way and to serve him so I obeyed his calling and surrendered everything to His Lordship.  It was in 2018 that God opened a door to study His word at E.I. School of Biblical Training in Greenville, SC. There I understood that his callings are his enabling and that my mission field is always right here right now.
Currently I am serving full time in ministry discipling women and teaching kids through my local church (Renacer Baptist Church) also being a volunteer as a bible teacher at HSD school. It is a privilege to serve our Almighty God!
Email: diliaflores1@gmail.com