David & Marianella Bueno
Panama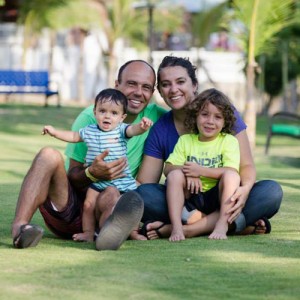 David and Marianella were born and raised in Uruguay. Because David's mom is a Christian, he attended church with his mom and siblings. He heard the gospel several times during his childhood but he accepted Christ as His Savior when he was thirteen years old in a sports activity at church.
Uruguay is soccer country and David wanted to be a professional soccer player. He began playing on a professional team when he was fourteen, but he left the church, making soccer was the priority in his life. At nineteen years old, David was a professional soccer player, but far away from the Lord.
Marianella grew up in a Catholic home. She knew about God and His love, but she didn´t know Jesus as her Savior and she didn´t have a relationship with Him. She met David when he was a professional soccer player. They started dating and David´s mom invited her to a special lady's meeting at church. She heard the gospel and she understood: "I am a sinner. I need a Savior." That day, November 5, 2000, she accepted Jesus as her Savior.
Together, they started to attend church, and David decided to serve the Lord. He still played soccer seven more years. They got married on April 20, 2002. They went to the Bible institute in Argentina (WOL) for three years, where they heard about SCORE and God lead them to serve with this ministry.
When they were planning to get married, they were grateful for God´s grace and mercy and decided to serve Him by being faithful day by day.
David and Marianella serve with SCORE International in Panama full-time.
Email: mariaydavid@hotmail.com