David "Hoss" Johnson
USA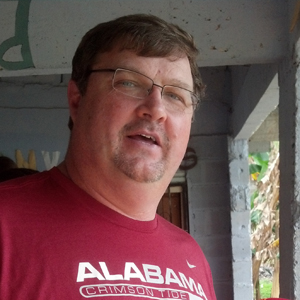 David "Hoss" Johnson was born and raised in Huntsville, Alabama. Raised in a Christian home and lead to The Lord by his father at the age of 12. Hoss's nick name was given from birth weighting in close to 13 lbs.
Two time All State player & All American in 1982. Signed a scholarship in 1982 with Coach Bear Bryant at The University of Alabama. Hoss was the last player that was recruited and signed by Coach Bryant. Lettered 3 years and played in 48 games and started in 28 games. All Decade 80?s Team at Alabama.
In 1987 Hoss gets married, graduates from Alabama with a degree in Broadcasting and signs a Free Agent Contract with the St. Louis Football Cardinals with Coach Gene Stallings. Later in the season Hoss signs with the Tampa Bay Bucs and his former college Coach Ray Perkins.
One year in the NFL was all that Hoss needed and he retired after one season. Moved back to Huntsville in 1987 and started working with the City of Huntsville Parks & Recreation Department in 1988 through 2013 when he retired. For the last 25 years Hoss has worked with youth and adults in a variety of camps and sporting venues, games and tournaments. Speaking and teaching at many different groups throughout the southeast about our amazing Lord Jesus!
In 2003 Hoss's wife Lisa passed away at 39. He speaks to groups not only about football but also Life Journey and raising kids as a single parent and the temptations that we face as well as other issues. Hoss works closely with his churches youth and college ministry in Huntsville, Alabama. One of his passions is of course football and using it to present the gospel to others, but he has a BBQ catering business. He loves to cook! And that he does on mission trips from chicken in the Score Villa to Pork BBQ tenderloin in Bethlehem, Israel while on a football mission trip!
Hoss has one son that teaches high school and coaches football and a daughter that is finishing her last two years of college that is a former 2010-11 GAP Alumni of Score in Costa Rica. After the first Score Football mission trip in 2011 Hoss knew that God was calling him to full time ministry.
Since 2011 Hoss has been on several Football Mission Trips
2011 – Costa Rica – Score Football Clinic
2012 – Costa Rica – Score Football Clinic
2012 – Israel Football Clinic
2012 – Huntsville Football Clinic
2013 – Costa Rica Football
2013 – Panama Football Clinic
2013 – Turkey Football Clinic
2013 – Ohio – Michigan College All Star Game
2013 – Israel Football Clinic
In August 2013 Hoss started working with Score as the National Football Director with a passion to go teach them about the greatest game on earth and tell them about our Awesome God that we get to serve!
Scope of Football Missions – utilize the talents of coaches, players, trainers, officials & field crews to demonstrate and train them in every facet of a football program and leagues to make them better efficient as to produce a quality program. The end result is to help them attain a high level program and in the process present the Love of Jesus and what he can do for them.
Email: hoss@scoreintl.org