Brian & Bonnie Donohew
USA – Arizona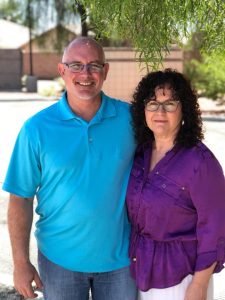 Currently residing in Glendale, AZ, Bonnie and Brian Donohew both grew up in Northeast Ohio, 7 miles from one another and were married on January 20, 1996.  They have two children, David and Delanie and currently attend Life Church in Peoria, AZ.
Bonnie – After graduating high school, moved to Phoenix, AZ and attended Southwest Community College and obtained her Associated Degree in Travel Management.  She moved back to Ohio and began working for AAA Travel Agency.  She attended United Methodist Church and served on the adult choir and in the youth ministry.  She then assisted Brian in conducting a baseball outreach in Niles, Ohio which provided youth baseball and softball players the opportunity to hear the Gospel.
After moving to Phoenix, AZ Bonnie became a member of The Vineyard Church of North Phoenix and volunteered in the bookstore.  Bonnie's heart and passion for the Lord has allowed her to touch many lives. Through her work in sales at Trivita, Inc. in Scottsdale, AZ  as a Wellness Consultant she has become a "prayer warrior" often praying with many members around the globe.  She has shared the gospel with others where she works and in the community.
Brian – After graduating high school, Brian attended Georgetown College, KY where he played all four years in right field and helped the Tigers to the 1988 NAIA World Series in Lewiston, ID. Upon graduating from Georgetown in 1992 and earning a Bachelors of Science in Physical Education, Brian began his coaching career as an assistant coach at his alma mater.  He then moved on to Akron University and earned his M.S. Education while coaching at Mount Union College.  He then became an assistant coach at IUPUI in Indianapolis in 1996 and then Head Coach in 1998.  After IUPUI dropped it's baseball program in 2001, Brian became a volunteer assistant at Kent State University and helped the Golden Flashes to the 2002 MAC Championship and Notre Dame Regional appearance.  Following Kent State, he moved on to become the pitching coach at Cleveland State University from 2002-2005.  Following the 2005 season Brian moved on to Akron University as the assistant coach until 2010.
It was while at Akron that Brian took his first trip with SCORE to the Dominican Republic. It was this trip that brought passion and hunger for God's Word and the need to share the Gospel. Following his return from the DR, Brian began a coaches bible study.  He then moved on from Akron University in 2010 to run an indoor baseball/softball academy in Niles, Ohio and while there, he and his wife, Bonnie, were able to organize a baseball and softball clinic for youth ages 8-18 yrs in which the Gospel was shared.  Following a family move to Phoenix, AZ, Brian attended The Vineyard Church of North Phoenix and volunteered for the Prison Ministry.  Currently, he is serving as a mentor for Post Grad Sports (PGS) in Scottsdale, AZ and leading Bible Study for high school baseball players and providing one on one discipleship.  He is also assisting in leading an Alpha series at Life Church which helps others explore the Christian Faith.
Brian and Bonnie are excited to join SCORE and the calling that God has put on their hearts to continue the mission of sharing the Gospel of Jesus Christ and making disciples through sports camps and clinics.
Email: brian@scoreintl.org