Joelle Person
Team Trip Administrative Coordinator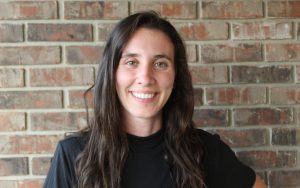 Joelle committed her life to Jesus at 4 years old and by 8 years old knew she wanted to do something in missions. Throughout her high school and college years, she went on multiple short-term missions' trips, growing her love for people of different cultures and her passion for sharing Jesus with others.
Joelle graduated with her bachelor's degree in Intercultural Studies in 2020. With the world-wide changes taking place that year, Joelle's plans to move overseas fell through, and, for the next two years, God taught her a lot about faithfully sharing Jesus with those around her no matter where He placed her.
After two years, Joelle had the opportunity to serve on a mission team in the dessert of Mexico for 6 months, sharing Jesus with locals and rock climbers.
In 2023, Joelle and her husband moved to Chattanooga, where Joelle heard about the work of SCORE International. She is now excited to serve on the Chattanooga SCORE team and continue to share Jesus' love to the people in Chattanooga and around the world.
Email: joelle@scoreintl.org